Dedicated to my dear friend Cat, her Granny and all my ancestors before me.
My final project for my Value Added Products class at Sterling College was to…dun, dun, dun…make a value added product!  My initial reason for taking this class was two-fold. The first was to begin my journey to becoming an artisan cheesemaker, by learning some more skills in the dairying process, beyond yogurt, kefir and fresh cheeses all of which I have been making at home for some time. The other was to learn the processes around making age old foods from scratch using traditional methods. I got both of those things out of the class, and so much more.
Over the past year or so, I have really enjoyed exploring my ancestry through food. Food is the cornerstone to all cultures, and by learning what traditional foods are in certain areas, you learn a lot about the people and landscape – what kind of climate they have and thereby the types of foods that were available before our global economy where so much (too much?) is available, as well as what other cultural influences helped to shape the modern food cultures. There are several great cookbooks I have acquired over the past year, and I will likely be sharing some more of those recipes soon. One of them is Scottish Traditional Recipes: A Celebration of the Food and Cooking of Scotland: 70 (Check!) Traditional Recipes Shown Step-by-Step in 360 Colour Photographs
. It is a great overview of key products and foods of Scotland. I knew for this final project I wanted to make something quintessentially Scottish and this book was a good base.
At the time I started thinking about what to make for my project we were in the midst of sausage making. So at first I wanted to make black pudding, something that makes use of some of the less desirable parts of animals, including blood and organ meats. I have enjoyed various versions of blood sausages, in Norway, on the Navajo Reservation and in both Scotland and Ireland and have loved every single bite. I think a love for certain tastes, especially unique tastes are programmed in our DNA, and blood sausage is just one of those things. It is very common in all cultures that raise sheep. Sometimes it is made from pork.  But finding the ingredients to make such a dish was more than daunting. I had also thought of making haggis, but again, getting all the ingredients at this time of year didn't seem possible in the amount of time I had.  Then I realized how silly I was, a budding cheesemaker, who wasn't thinking about making cheese for this project? Ridiculous.
Then I read about Black Crowdie, or Gruth Dubh , as it  is known in Gaelic, which is literally translated as "black curds". I will get into the reason behind the name soon, I promise.
One of my obsessions in the world of food is historic, traditional foods. So when I read about Crowdie, I was spellbound. I had to make this cheese. It was made even more enticing when I did a google search for a recipe and literally came up with NOTHING. Well, I shouldn't say nothing, but when recipes say things like: "heat the milk to blood heat" you just know there is a lot of work ahead trying to make sense of it all. But nothing excites me more than a historic recipe, with very vague directions to get me going! I had to make this cheese! So I first asked around to some of my Scottish friends and Facebook friends to see if anyone had a recipe. The saddest thing is that I got several responses from Scottish friends about how their Granny used to make it, but after she passed the recipe was lost. All the ancestors started screaming in my head : "YOU HAVE TO MAKE THIS CHEESE!"
Next, I found several companies in Scotland that sold this cheese and on the advice of my friend and fellow online entrepreneur Nikki, contacted them for a recipe. Well, I ended up with the best guide possible into this historic cheese – Rory Stone from Highland Fine Cheeses, an award winning cheese producer, and from my understanding a pioneer in creating Crowdie for the mass market.  Rory and his family have been making cheese in Tain for a very long time, and like me, have been interested in some historic cheeses too – Crowdie and it's cousin, Caboc as well as a cheese his mother invented, Hramsa, which is basically Crowdie flavored with ramps (wild leek).
See, Crowdie, is a true farmstead cheese, meaning it was made by every crofter, being referred to as crofter's or porridge cheese because it provided a very practical way of ensuring that nothing was wasted. Crowdie is traditionally a skimmed milk cheese that is the byproduct of butter making.  This uniquely Scottish cheese was even once used as part-payment of rent in the Highlands. But it goes back much farther than that.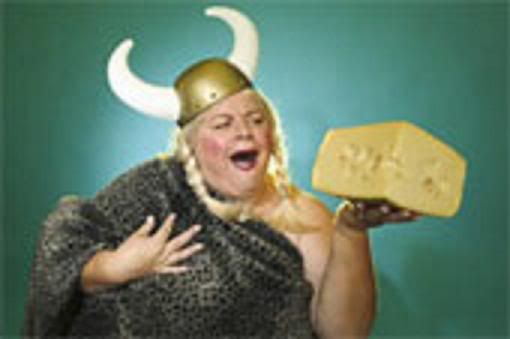 (photo courtesy of …)
Crowdie making skills were given to the Scots by the Vikings. In terms of my passion and goals, we are 2 for 2, being that I have both Scottish and Viking (mostly Danish) ancestry.  Viking culture greatly influenced that of Scotland, including the cuisine of Scotland between the 8th and 14th centuries and much of that influence is still seen today. Things like blood sausage, smoked fish, and skimmed milk cheese. Similar skimmed milk products are still made in Sweden and Norway, today. Until the early 1700's most Scottish cheese was made from skimmed milk after butter making, and did not travel well.
To make Crowdie homemakers would preserve the skim, which would naturally sour made by placing a fresh jug of skimmed milk beside the stove to sour and curdle. By keeping it nice and warm, the natural lactobacillus culture in the milk would ferment and set. Next they would scramble it, perhaps add some cream, add some salt and hang it up in muslin to produce Crowdie. The low fat content means it can be stored for long periods of time without refrigeration or salting. So the original Crowdie was a raw milk cheese. So at this point in the process I was happy to have a very reliable and trusted source of raw cow's milk – Applecheek Farm. The Scots were a cattle herding culture, although they do raise sheep as well, it is possible that the original cheese handed down by the Vikings were a sheep milk cheese.
Because the milk is now pasteurized a lactic acid element needs to be added to encourage coagulation. To learn more about cheese and the importance of lactic acid action, see my last post Deep in the Cheesemaking Process. Then, in the making of Crowdie, the curds are heated, mashed, mixed with salt and then hung the traditional way in muslin bags.
Rory was a great help to me. We discussed at length desired taste, and texture when it comes to Crowdie, and we also discussed the process to how it becomes Crowdie – and the main component is that it needs quick lactic acid production. The process sounded quite a lot like making chevre, so I decided to make two different versions by  using  two various cheese cultures commonly used in chevre making – mesophilic starter culture MA 11 and a Fromage Blanc starter and by making a skimmed milk version as well as a full fat version. Although Rory's recipe for Crowdie includes both starter culture and rennet, I decided to forego the rennet. Really, Crowdie was created before rennet existed as a product. Between that and the fact that Scottish and European rennet is so different in terms of strength from US rennet, I was left a little on my own.  So basically I made up my own recipe for Crowdie , using all the info I got from Rory and processes I had learned during the course at Sterling.
Having never tasted Crowdie prior to my experiments here, I so wish I could have invited my Scottish friends over for a taste test! I plan to make it the really traditionally way soon by allowing the raw milk to curdle naturally as well – and see if there is a  big difference in terms of taste and texture.
So what exactly is Gruth Dubh (Black Curds)? As the legend of the cheese goes, a cattle herder had put his cheese in the same container that he had earlier had his oatcakes in. The cheese got accidently covered in oats because of this. However, he found that he enjoyed this taste and then shared it with others – which is also why this cheese is traditionally eaten with oatcakes. This is how I served them to the class.
What was the result like? Well it was delicious. It was bright, tangy and acidic. The texture was soft, but also more crumbly than chevre, somewhat like a mix of chevre and cottage cheese or ricotta. I made both a full-fat Gruth Dubh and my own version – "Flowery Crowdie" which is the skimmed milk version rolled in Uncle Roy's Flowers of Scotland
containing: starflower and coneflower petals, heather, thyme, bay, rosemary, tarragon, juniper berries, allspice and salt. Both were delicious, but I have to say I enjoyed the Gruth Dubh the most, even if the Flowery Crowdie looked nicer.
****************************************************************
CABOC – a relative of Crowdie
The MacDonald's on Skye thought that they should produce something better for their Chieftan – a "white meat". So they took the skimmed milk and made Crowdie with it but took the cream and matured it rather than churning it into butter. The mature cream was kept in a barrel and then after 4 months again hung to dry. It would then be split and reversed to get more of the moisture out and salted. "Caboc is a hybrid of "Cabag", Gaelic for a homemade cheese and "Kebbock" which is a Scot's word or Dorric for a farmhouse cheese and refers to the shape of the product rather than the style as they were all pretty much the same cheese. The shape being a bit like a stilton." ~Rory Stone.
What did this historic cheese taste like? Well since I have never made it, I will quote a very humorous explanation from Rory Stone: "For some it tastes like rancid butter rolled in oatmeal, some might say nutty, but with that much fat there's little of any flavour. Selling the cheese is a nightmare as it really is a Scottish specific line, the French say it is butter, the English just don't get it and so it's mainly eaten by people with triple heart bypasses and purple noses. At 70% butter fat it's a kind of heart grenade".
Sounds like another fine challenge to me!  Here is what is a very simple recipe for Crowdie/ Black Crowdie/ Gruth Dubh looks like. But just know that it took a lot of thought and understanding to get it to this point! So I hope you try it and I really want to give a huge shout out to all those who helped me through this process: Rory Stone and Highland Fine Cheese, Anne Obelnicki, Cat Thomson, Nikki Meisnere Accardi and AppleCheek Farm.
I have to say that creating a standard recipe for a historic farmhouse cheese based on my limited experience was a wonderful and successful challenge. I hope you enjoy making Crowdie as much as I did!
CROWDIE
INGREDIENTS:
1 gallon raw cow's milk
1 pacakge MA11 or Fromage Blanc starter
3:1 Scottish (pinhead oats) to cracked black pepper for Gruth Dubh and less than one ounce of Flowers of Scotland for "Flowery Crowdie"
METHOD:
Heat milk to 72 F, add culture, let set for about 24 hours, until set like yogurt. Then cook over low heat (curds and whey), until curds scramble like eggs (do not exceed 100 F). Once curds have tightened a bit and look like "just cooked scrambled eggs" drain off the whey. Hang the curd over the sink in a muslin bag or clean pillowcase for about 4 hours, then salt and put in fridge for a few hours to harden up before shaping and adding flavors. Makes about 1 lb of Crowdie.